Menü
Üyelik
---
Ziyaretçiler
01: 83.22.254 xxx
02: 207.46.13 xxx
03: 184.1.62. xxx
04: 54.36.148 xxx
05: 54.81.182 xxx
06: 66.249.75 xxx
07: 138.59.20 xxx
08: 54.36.148 xxx
09: 45.57.232 xxx
10: 78.46.37. xxx
11: 173.239.1 xxx
12: 95.108.18 xxx
13: 141.8.142 xxx
14: 188.165.2 xxx
15: 178.154.2 xxx
16: 40.77.167 xxx
17: 103.76.19 xxx
18: 94.130.11 xxx
19: 178.154.1 xxx
20: 178.32.22 xxx
21: 192.119.1 xxx
22: 61.160.19 xxx
23: 23.245.16 xxx
24: 95.108.18 xxx
25: 87.250.22 xxx
26: 195.154.2 xxx
27: 201.174.7 xxx
28: 46.119.11 xxx
29: 66.249.69 xxx
30: 66.249.75 xxx
31: 27.130.15 xxx
32: 204.44.90 xxx
33: 147.135.2 xxx
34: 188.47.10 xxx
35: 87.250.22 xxx
36: 66.249.75 xxx
37: 144.76.13 xxx
38: 5.157.52. xxx
39: 80.211.12 xxx
40: 217.131.8 xxx
41: 216.244.6 xxx
42: 66.249.69 xxx
43: 66.249.69 xxx

Album Reviews: MORBOSIDAD & SADOMATOR - RITES OF DESECRATION (2011)
Total of 9 minutes. In fact, even if does not reach 9 minutes. Morbosidad hailed us with the latest split with Chilean Perversor and Sadomator raised the bar with their latest lunacy "Goatsblood Panspermia" of 2010, now two bands DECLARE WAR together! I guess both bands gave the tracks recorded in hell, invested with the seven-fold flamed riffs, hellhounds were brought to vocal duties, so this is the top of RAW NOISE TERROR we witnessed. Time to live Morbosidad''s ultra fuzzy guitars, screams, roaring vocals are insanely primitive factors those are deafening the ears, Sadomator's muffled riffs together with echoing vocals to be buried into the depths of hell. The two bands almost reached the last point in the treble. Second Sadomator track named "Fossilized Penis Insinuation" is more better as recording, and it's based to more slower-paced sections those are reflecting the doomy ambience.
Torchbearers of diabolical abomination unite once again in the blood-paved streets of Kadıköy. Diabolizer bring forth the impending domination of infernal tyranny, embodied in the tightest form of skullcrushing Death Metal. In the early days, their promo "Shadows Of Impending Decimation" was just a sample of darker days of death and destruction ahead. With these 2 songs EP, the band actually proved to be one of the best death metal bands in Asia. But the real threat was "Apokalypse" that they recorded in 2015. Including 5 tracks of diabolizing death metal malignancy, their debut EP was released as CD by Third Eye Temple in 2016. Diabolizer officially challenged the epic of death metal in Europe with this latest release. It can be said that their musical way is similar with bands like Deicide, Vomitory and Purgatory from the new ones.

Bandcamp Page Facebook Page
An impious trio decided to play morbid & malignant black thrash metal by keeping the perversion, death, chaos and satanism without compromise so Persecutory was the name of another death worship that emerged in İstanbul in 2014. Including the bastards Tyrannic Profanator (Sarinvomit, Horrocious) on vocals, Infectious Torment on guitars & bass, and Seismic (Sarinvomit) on drums, they recorded their 4-track debut EP "Perversion Feeds Our Force" in 2015. EP was released in Digipak CD format by British record label Hell s Hammer Music in 2016. EP was offering primitive black-thrash example in the most aggressive and malevolent form as it should be. Later the band went to some line-up changes and their new malignant noise got closer to black metal with more pissed death metal influences as of 2016. And the result was debut full-length that s a black death metal ritual consisting of 7 tracks, close to 42 minutes. Band recorded the full-length between November 2016 - February 2017 with new line-up including Vulgargoat (guitars & back vocals) and A.D.B. (drums).

Bandcamp Page     Facebook Page
Inhuman Depravity is formed in Istanbul / Turkey, by the end of 2013 to do some piecet of death metal. The band first recorded a 3-track-demo for promotional use and after some line up changes recorded and released full length debut "Nocturnal Carnage By The Unholy Desecrator" in May 2015 under Russian label Coyote Records. They proceeded to perform brutal death metal with unholy lyrics. After this full-length, a new vocalist joined the band and besides the shows they are making preparations for a new record in 2017.

Bandcamp Page     Facebook Page
Thorncraft is the bannerbearer of the Lucifer and Servant of Death. Eternal passenger of the path of Knowledge and Pure Light, bringer of the consuming fire of death that is above all fires. Thorncraft''s war is against false divine and all humanity. Thorncraft is the vessel that Lord empowered and gifted with the noise called Black Metal. In the name of Azazel strife of sitra achra shall prevail.

Facebook Page
Necrosemen of Sarinvomit was embodied in the filthy streets by barbaric demons of Godslaying Hellblast, Impuration and two other ferocious godfucking demons in the early days of 2013. Sarinvomit is a medium through which Grandiose Baphomet emits his entropical sun-depleting will. They are bound to think and act in accordance with his great projection of complete deterioration and and transfer it into a form of mortal expression. Including 4 brutal marches of Bestial Black/Thrash desecration, the first demo "Declaring The Supreme Profanity" was recorded in April 2013. "Declaring The Supreme Profanity" was released in cassette by Headsplit Records of U.S.A. in November 2013!!! Sarinvomit declared the supreme satanic profanity with the first chemically engineered demo.

They recorded the second war annihilation "Baphopanzers Of The Demoniacal Brigade" in March 2014. Including 5 tracks of total chemical madness, "Baphopanzers Of The Demoniacal Brigade" was another demonic nuclear annihilation against all holiness!!! EP was released as digipak CD by Polish label "7 Gates Of Hell Records" in 2015, and the cassette version has come from another Polish label "Kampf Records" in same year. Their first European performances took place at "Under The Black Sun" in Berlin, and "In Flammen Open Air" in Leipzig in the summer of 2016. During this time, the band recorded 4 tracks for 2 splits, one for Godslaying Hellblast and the other for Eggs Of Gomorrh.

Bandcamp Page   Facebook Page
To present the disobedient rules of blasphemy, desecration, and pure hatred against all the religions, blind society and the world, the mission was to spread the demonic laws they embraced by vomiting the perverted noise that comes from the deepest cellars of the hell. This hatred is always the enemy of society that's deceived by blinded fool beliefs they created for themselves. The intention is based on demolishing the divinities, and keeping relentless profane command. Founded in the end of 2010's summer, Impuration's ideas of total unholy destruction emerged as the blending of satanic black-thrash-death metal with evil punk inspirations under the key influences of the old devils such as Sarcofago, Sodom, Impaled Nazarene, Beherit, Demolition Hammer, Bathory, Venom and where the devil's punk'n'roll hammer down such as Motörhead, Discharge, Anti Cimex with another troopers of the hell such as Bestial Mockery, Nocturnal Breed, Witchmaster. Including 6-tracks of perversion, scum and devil-worshipping metal, the first EP "Sanctities We Raped" was recorded in December, 2011. It was released as CD by French label Ars Funebris Records in February 2013. The same year it was also released in tape by Norwegian label Gravplass Propaganda.

Bandcamp Page Facebook Page
Founded in the end of 2006's summer in Kadiköy within the frame of the satanic procedures to spread the infernal evil, chaos, and hatred eternally. While Turkish scene has many idiot, poser crews under the "black metal" label, kicking their ass and impaling their idiotic and ridiculous ideas were done by Godslaying Hellblast's exterminant fulmination which comes from their true devil worshipping. Burst of the earth and all the universe, annihilating the poor and fuckin' humanity were the privileged important ideologies of the band. The first demo including a Von cover ("Lamb") was released through Bolivian company Diabolous Productions in 2007.

In September, released through Final Blasphemy Record, the 4-way split called "TKM Deathsquad" was including the two tracks of each bands. The following year, they covered "Veinen" for the legendary band Von's tribute album called "Sacrifice at the Altar of the Satanic Blood Angel: A Tribute to VON" that also included the bands like Blasphemophager, Necroholocaust, Beastcraft, Nuclearhammer. A deal with Legion of Death Records came, the result was the 7" vinyl named "From The Deepest Devilish Pits" that has both of outstanding production, and diseased sound of satanic black metal terrorism in the vein of worshipping to Bathory, Blasphemy, Beherit, Archgoat, Bestial Warlust. In 2011, they made two splits with Canadian blasphemic black metal demons Necroholocaust and French black/thrash metal band Manzer, there were more bestial black-death metal terror spawned. In the end of 2016 they returned with two new tracks for the split with Sarinvomit, and they re preparing a debut full-length for 2018.

Bandcamp Page     Facebook Page
Even though they aren t known well enough around the world yet, Deggial has been blissful poison to our turkish ears for years. For a scene that is so narrow and retarded (except for bands like Godslaying Hellblast, Burial Invocation and Decaying Purity), Deggial are a damn big milestone. This is the most brutal, soul-ripping and face-shredding Black Metal release that has ever been vomited in Turkey. This demo consists of four tracks in total, with one of them being a cover of "Buried by Time and Dust" by no band else than mighty MayheM!!! The songs are filled with that kind of extremely fast, brutal and skullcrushing insanity which you can only find in bands like Infernal War, mid-era Marduk and Urgehal. Sickening Black Metal tunes at it s best loaded to the brim with pace, hate and aggression.The production is very fucking hellish for a demo. The drumming is absolutely top-notch, the guy is playing it not only fast but also with a lot of groove. The riffs are reaking and dripping with the essence of pure evil and destruction-believe me, these songs are among the most evil and hateful songs that I ve ever cone accross in my life. The bass is rather audible through-out the demo. And the vo-KILLS... Afreet is a demon straight outta hell, spitting forth blasphemies, hatred and total devastation. I ve been lucky enough to watch him live once, and believe me, he s one of the most freaking-out and ruthless black metal vocalists of this entire world. His demonic voice will possess your soul and burn it to ashes in no time. And last but not least, there s this MayheM cover. If you think that it s a way too fast song, you shoul check out this cover. They ve managed to play it even faster than the original, and when you hear it, you ll shit in your pants for sure. This immense pace and violence which is whipping your flesh and soul might as well be your final moment upon this earth. It is that lethal. To sum up things, I d like to say that, this is one of the greates Black Metal demos that have been ever released, and I m going as far as saying "if you re into Black Metal, you MUST have this demo; otherwise do us a favor and kill yourself!!!", it s that brilliant. GET IT !

Bandcamp Page     Facebook Page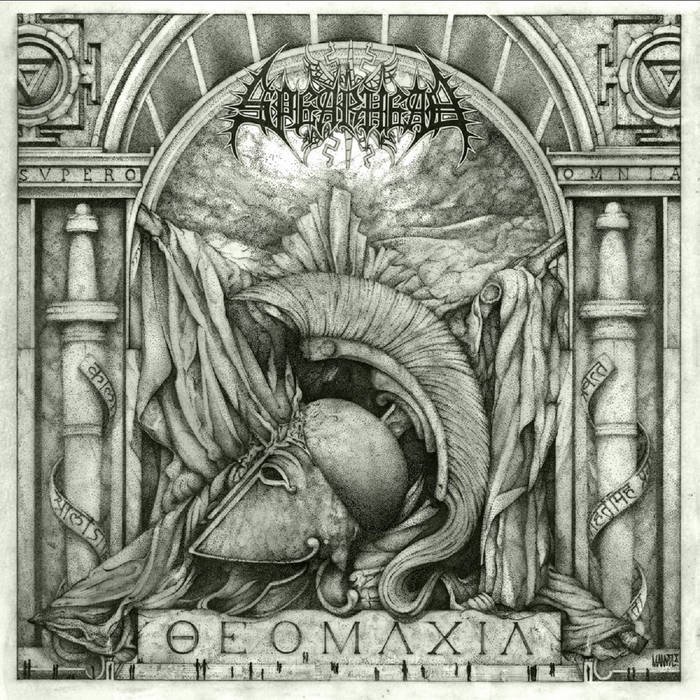 There are some bands although that are not new, and put some products to announce their name enough you can not know anything about them. Here I learnt Spearhead at this point so I surprised how I haven't been any idea about this band until now. When I first heard the name, I didn't think such a kick-ass band who mixes Death-Black-Thrash metal too deadly. As a result, you should not be deceived about the band names.

Looking at the previous two albums before the band increased their point of 5 to 10 and it seems to have reached into the summit. People who wants to live North America-Poland ambience of Angelcorpse, Conqueror, Vader, classic Morbid Angel era they can be easily kept in totally 11 tracks have made the diseased spirit. Listening to one of the most killer albums of 2011, "Theomachia" has already entered into this list, and even cruelty, war, attack, darkness, overbearance, along with all of the factors you live the giving a breath of hell.